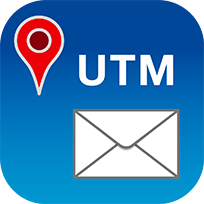 UTM Position Mailer
is the easiest way to
share your UTM coordinates
from your iPhone!
Directly read the UTM coordinates (WGS84) of your position. Rotate the phone for larger numbers.
Send your position as UTM coordinates via e-mail or SMS/iMessage.
A map link to Google Maps is included with the message.
The receiver can use the map link on a computer or on any type of phone (provided that it has an internet browser).
UTM zone: Automatic or manual (fixed zone)
Read more details on the App Store.