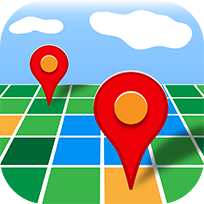 Favourite places with images
- Find the way back to your favourite places
- Store photos and text together with a place
- Add a place based on the GPS or by pointing on the map
Add support for UTM coordinates!


If you download the app "Grid Tool" on the same device as Places & Photos, new quick access buttons will appear in both the apps. Then it is very easy to send coordinates back and forth between them. They will appear as one integrated system.

Grid Tool supports UTM coordinates together with a unique visual map reading tool for paper maps.