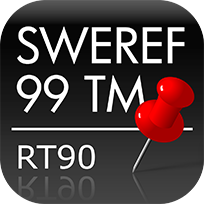 Swedish Coordinates (Basic Version)
Easy conversion of map coordinates in Sweden
Send a location and a map link via e-mail or SMS/iMessage!
Convert directly between SWEREF 99 TM, RT90, and decimal degrees (WGS84)
The app shows your current location or a coordinates that are entered manually.
Switch quickly between the coordinate view and the map.
The app is optimized for quick and easy coordinates conversion.
Please, note that this app can only be used for locations within Sweden.
Uppgrade to PRO!

There is a PRO add-on that is offered both as an in-app purchase and as a separate app ("Swedish Coordinates PRO").

The add-on offers several useful features, e.g.
• Smart cut and paste feature
• Direct export of coordinates to some navigator apps, provided that they are installed on the same iPhone. (*)
• More lat/long formats.
• More map features.
• The "local projections" of the Swedish grids SWEREF 99 and RT90.
Se info within the app for the current price!

(*) Navigator apps
These navigator apps are supported (must be purchased separately and installed on your iPhone):
• NAVIGON
• Sygic
• Waze
• Google Maps
• Apple Maps (= the app "Maps")
• GPS Navigation, Maps & Traffic - Scout
• HERE Maps
• Eniro Navigation
In the app, there are App Store links to versions that can be used in Sweden.
(Note that the names above are trademarks that are owned by the different businesses without any association to Viatact..)
On the Swedish language version of this site, there is
a comparison table
between the PRO and the regular versions of this app.
Please, note that this app can only be used for locations within Sweden.